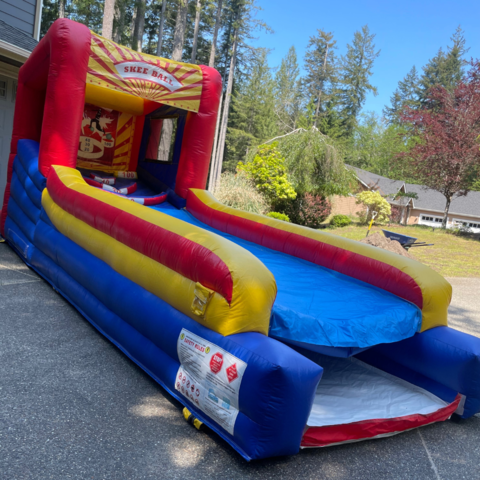 Attendants: 1
Outlets: 1
Age Group: 5+
Description
Inflatable Skeeball - Come with 6 SkeeballsIntroducing the classic and beloved arcade game, SkeeBall! Get ready to roll your way to fun and excitement with this timeless entertainment staple.
SkeeBall is the perfect addition to any game room, arcade, or family entertainment center. The objective is simple - roll the balls up the inclined lane and aim for the target holes to score points. With its intuitive gameplay and addictive nature, SkeeBall guarantees hours of thrilling competition and laughter for players of all ages.
Crafted with precision and durability in mind, our SkeeBall machines are built to withstand the test of time. The sturdy construction ensures a smooth and consistent roll, while the high-quality materials guarantee long-lasting performance. Whether you're a casual player or a serious enthusiast, our SkeeBall machines will provide endless entertainment for years to come.
Not only is SkeeBall a blast to play, but it also offers a fantastic opportunity for friendly competition and skill improvement. Challenge your friends, family, or colleagues to see who can rack up the highest score and claim the title of SkeeBall champion. The game's versatile design allows for multiple gameplay options, including solo play, head-to-head matchups, or even team tournaments.
In addition to its entertainment value, SkeeBall also serves as a fantastic marketing tool for businesses. Capture the attention of customers and create a lively atmosphere by incorporating SkeeBall into your establishment. Its nostalgic appeal and interactive nature will keep patrons entertained and coming back for more.
So, what are you waiting for? Bring the excitement of the arcade home with SkeeBall! Whether you're looking to enhance your game room or attract customers to your business, SkeeBall is the ultimate source of fun and entertainment. Roll your way to victory and create unforgettable memories with this timeless classic.